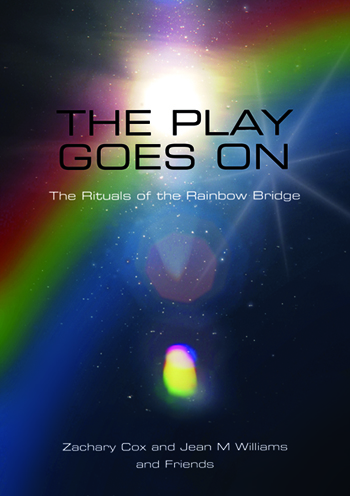 The Play Goes On

The Rituals of the Rainbow Bridge

compiled by Zachary Cox, Jean M. Williams and Friends



The Companionship of the Rainbow Bridge was an amazing flower of the Aquarian Spirit, its roots in the fertile soil of the 1960s. It was founded in 1977 and ran with a couple of breaks until 1994. It was described as an experimental ritual drama group and made no pretensions to be a Magical Order. Nonetheless, it certainly developed a magical dimension that provided opportunities for creative self-expression and wonderful, self-transcending experiences. It has left a treasure house of over forty beautiful rituals that were written, produced and performed during the life of the Companionship. This book presents twenty-three of them to inspire a wider audience. The Rainbow Bridge was Apollonian in character, with an emphasis on beauty of language and use of music in rituals, and courtesy and generosity in all interactions between Companions. The introductory section of the book describes the high ideals that formed its foundations and the general principles of its ethos and organisation. A generous photographic section shows the symbolic weapons, officers' robes and Temple furniture. The main part of the book presents the rituals, organised in five groups, each with an introduction. The first, the Foundation Rituals, comprises the Opening and Closing of the Temple, used at every ritual meeting, and the Rite of Acceptance, an inspirational ritual for inducting a new Companion into the group. Seven Rainbow Rituals form the second group, each based on the symbolism and emotional tone of one of the seven colours of the rainbow. The photographic section contains beautifully conceived representations of each Rainbow Ritual, created specifically for this publication by our photographer who also designed the cover picture. The next two sections present compilations of the rituals of two Companions who found the Rainbow Bridge the ideal environment for their creative talents. Each wrote several rituals or path workings that were much loved. Sadly, both have since passed away but these two sections are a tribute to their unique visions. The final section comprises four individual rituals from the early years of this venture, written by members of the team involved in this compilation. All those who took part in this project have elected to present themselves by their Rainbow Bridge names though the mundane identities of the main authors will be apparent.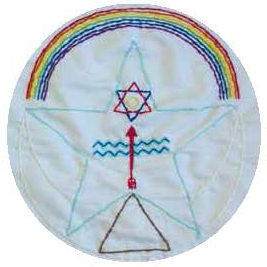 The Lamen of the Rainbow Bridge





The image at the top left of this page was designed and created by the photographer Ruth Bayer.
The image above is from a photograph by Ruth Bayer.
Both images © Ruth Bayer, 2015.







Return to main page for The Play Goes On: The Rituals of the Rainbow Bridge