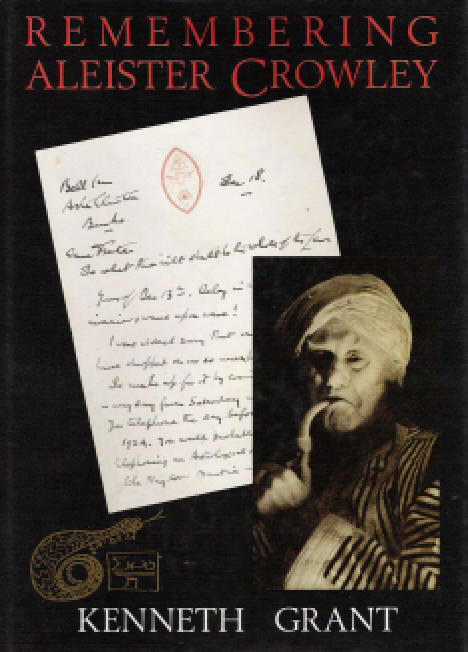 Remembering Aleister Crowley by Kenneth Grant.
Skoob Books Publishing Ltd., London, 1991. 76 pages. Coloured dustjacket designed back and front by Steffi Grant. Black and white illustrated endpapers. The text is copiously and beautifully illustrated throughout with line drawings, black and white plates, and coloured plates. New, shrink-wrapped.
Dedicated to the memory of David Curwen, this is Kenneth Grant's memoir of his relations with Crowley, drawing on letters and diary entries. Grant first made contact with Crowley in 1944, first visiting him at the Bell Inn, Aston Clinton. A few months later, in 1945, Grant went to stay with Crowley for several weeks at Netherwood, Hastings, acting as unpaid Secretary in exchange for magical tuition. It was in the course of this visit that Crowley gave him the portrait of Lam.
This is an affectionate and fascinating memoir, giving an insight into Crowley not conveyed in more formal biographies. Many of Crowley's letters to Grant are illustrated, several of them giving the Words of the Equinoxes. In the years since Crowley's death Grant has gone on to develop and consolidate his own body of work, and Crowley's work has been a major influence ─ though only one amongst several, and tempered by Grant's own magical and mystical experience.
Price: £20.00, plus postage and packing as specified below.
Important Note: "Add to Cart" buttons for payments via Paypal only. For payments by other methods, see here.
| | |
| --- | --- |
| United Kingdom (£20 + £4 shipping) | |
| Europe (£20 + £7 shipping) | |
| Canada, USA, North and South America (£20 + £10 shipping) | |
| Australasia, Pacific Rim (£20 + £10 shipping) | |
| | |